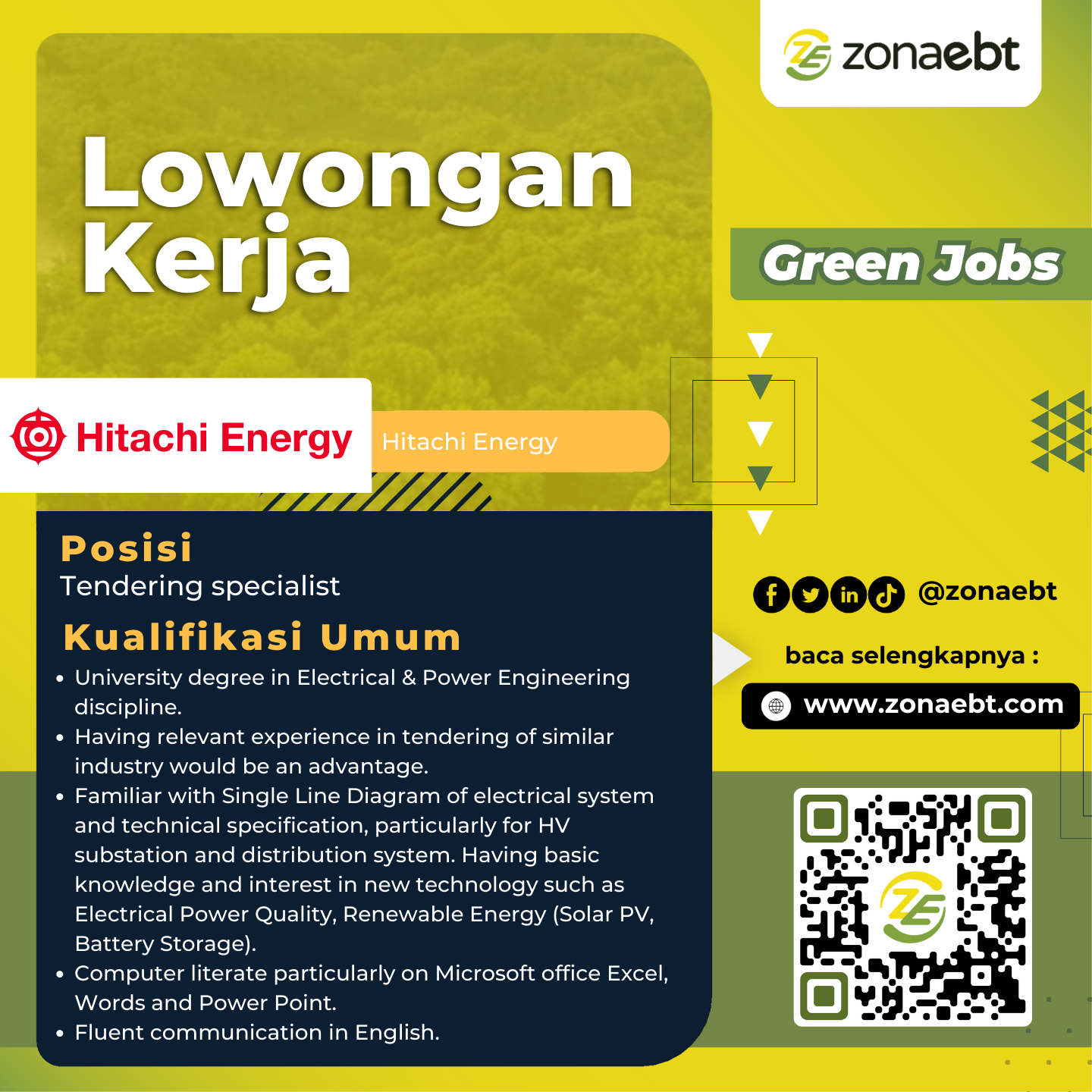 Kualifikasi Umum
1.University degree in Electrical & Power Engineering discipline.
2.Having relevant experience in tendering of similar industry would be an advantage.
3.Familiar with Single Line Diagram of electrical system and technical specification, particularly for HV substation and distribution system. Having basic knowledge and interest in new technology such as Electrical Power Quality, Renewable Energy (Solar PV, Battery Storage).
4.Computer literate particularly on Microsoft office Excel, Words and Power Point.
5.Fluent communication in English.
Deskripsi Pekerjaan
• You will achieve the sales order as per target setting and maintain profitability as per standard required with technical and commercial compliance as per approval process. Review customer RFQ (Request for Quotation), generate Bill of Quantity and provide the price calculation according to the requirement, presented into technical and commercial proposal.
• Work in accordance with HE procedures using applicable tools and documented all the process as per company guidelines. Conduct necessary meetings with internal stakeholder (Engineering, SCM, Legal, Operation) as well other BU (PGHV, PGGA, PGTR).
• Lease with SCM to get quotation of required material and service as per specification with enough validity and fit with commercial condition.
• Run approval process as per internal PGGI guidance (Gate Review and Risk Review) and hand over of orders to project management team.
• Conduct meetings with customer to exchange information on assigned tasks and resolve problems explore any opportunity alignment with Front End Sales (FES) and Area Sales Manager. In the range of authority negotiates prices and discuss technical and commercial issues.
• If outside the range of authority propose and agree a winning strategy with management. Have ownership of the opportunity, register, and update the evolution in the SFDC (Sales Force) as reporting tools. Maintain existing and search/create new channel partners for HE/PGGI.
• Living Hitachi Energy's core values of safety and integrity, which means taking responsibility for your own actions while caring for your colleagues and the business.
Deskripsi Usaha
Hitachi Energy is a global technology leader that is advancing a sustainable energy future for all. We serve customers in the utility, industry and infrastructure sectors with innovative solutions and services across the value chain. Together with customers and partners, we pioneer technologies and enable the digital transformation required to accelerate the energy transition towards a carbon-neutral future. We are advancing the world's energy system to become more sustainable, flexible and secure whilst balancing social, environmental and economic value. Hitachi Energy has a proven track record and unparalleled installed base in more than 140 countries.
Mari gabung GROUP KOMUNITAS GREEN JOBS, dapatkan update lowongan kerja terbaru melalui link berikut ini bit.ly/PendaftaranGreenjobsZoanebt
Pendaftaran Green jobs: Tendering specialist di link berikut ini: