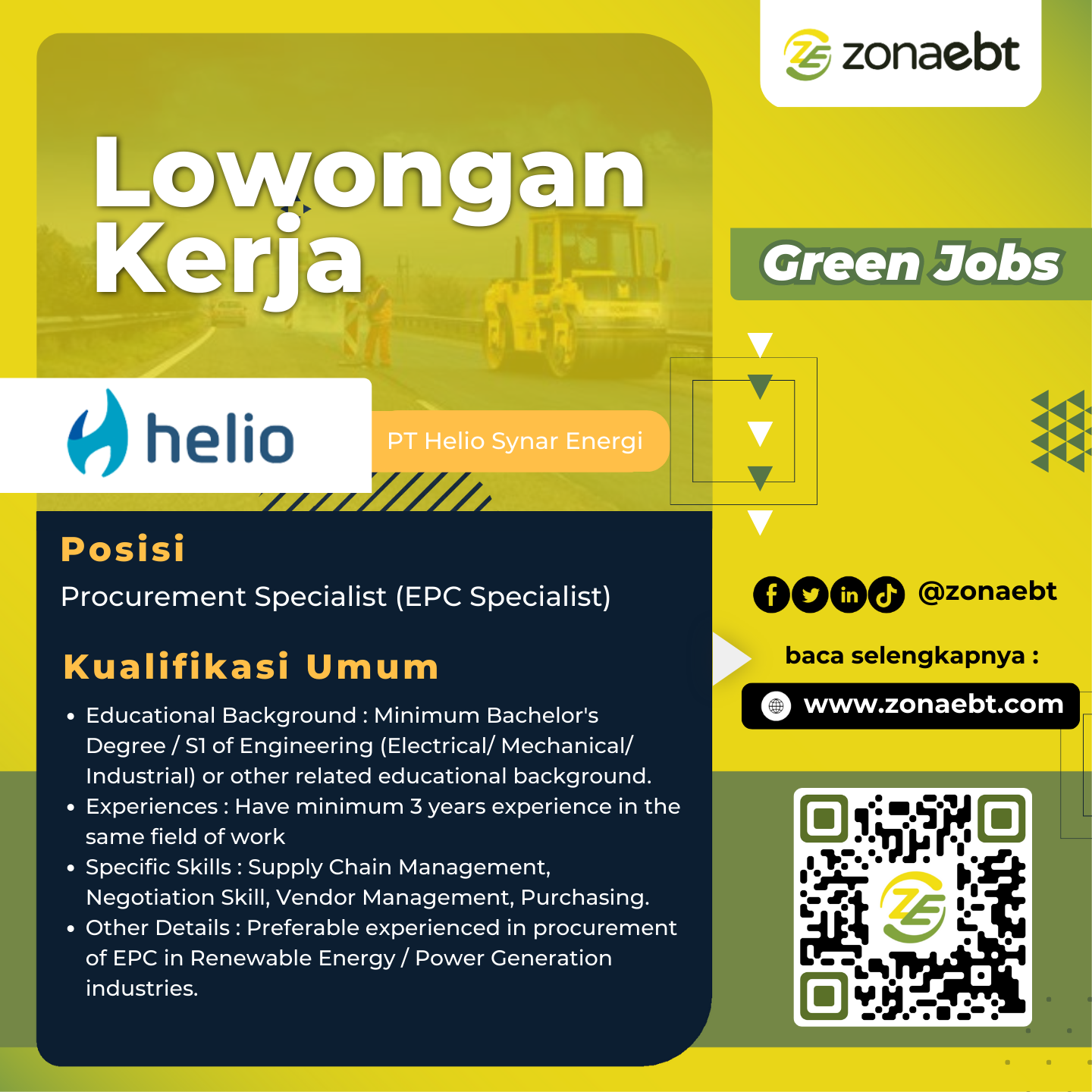 Kualifikasi Umum
Educational Background : Minimum Bachelor's Degree / S1 of Engineering (Electrical/ Mechanical/ Industrial) or other related educational background.
Experiences : Have minimum 3 years experience in the same field of work
Specific Skills : Supply Chain Management, Negotiation Skill, Vendor Management, Purchasing.
Other Details : Preferable experienced in procurement of EPC in Renewable Energy / Power Generation industries.
Deskripsi Pekerjaan
Conduct procurement of goods and services to ensure that they are obtained in the most economic, effective and efficient process to the best interest of the Company, within the framework of quality and delivery required, while maintaining the highest standards of professional integrity in all transactions.
Establish procurement schedule for the projects.
Interfaces with Suppliers to find solutions should problems occur and seek advises from Supervisor if necessary.
Work with cross functional teams like Engineering and Product to ensure the on-time delivery of documents (term of references, drawings, quotations, etc.) required to be obtained from suppliers.
Provides consultancy services to Users on source of material supplies, prices, availability and general market trends.
Deskripsi Usaha
Helio is a renewable energy company that concentrates on Photovoltaic – Hybrid power plants and solar rooftop development in Indonesia. Founded in August 2020, Helio is a joint venture between Bakrie Power and Syntek Energy & Control with more than 20+ years of experience in power-plant systems. We have extensive experience developing coal-fired captive power plants, automation and control, industrial control panel, and electric power system. We always seek various stakeholders to collaborate for energy development within our activities, such as the government, community, and investors. We can assure that contributions from various stakeholders are needed to reshape Indonesia's energy sectors. Our company's existence also marks the rising development of renewable energy development, especially for SDG No.7 Agenda in 2030.
Mari gabung GROUP KOMUNITAS GREEN JOBS, dapatkan update lowongan kerja terbaru melalui link berikut ini bit.ly/PendaftaranGreenjobsZoanebt
Pendaftaran Green jobs: Procurement Specialist (EPC Specialist) di link berikut ini: