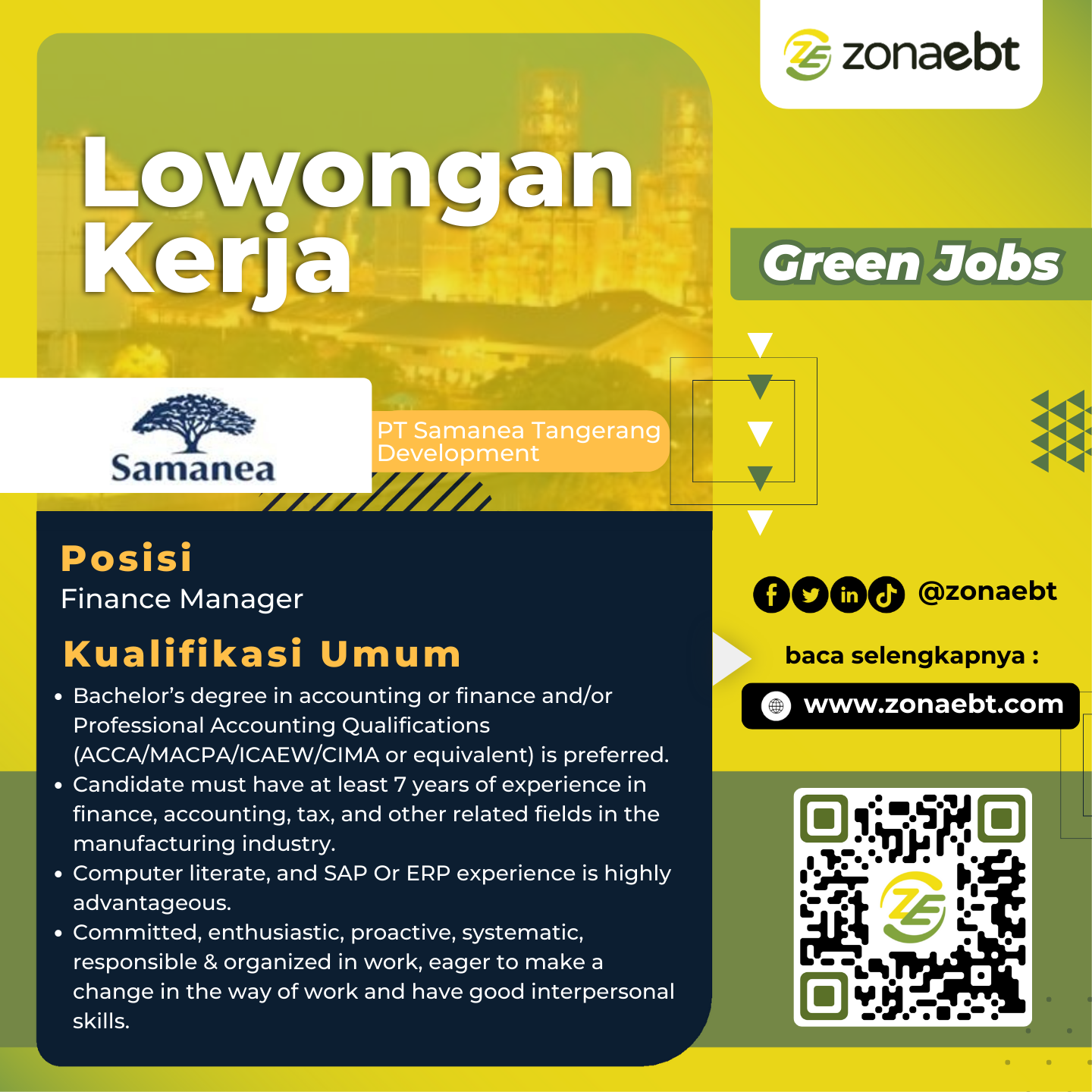 Kualifikasi Umum
• Bachelor's degree in accounting or finance and/or Professional Accounting Qualifications (ACCA/MACPA/ICAEW/CIMA or equivalent) is preferred.
• Candidate must have at least 7 years of experience in finance, accounting, tax, and other related fields in the manufacturing industry.
• Computer literate, and SAP Or ERP experience is highly advantageous.
• Committed, enthusiastic, proactive, systematic, responsible & organized in work, eager to make a change in the way of work and have good interpersonal skills.
• Good communication skills in English and Bahasa, both speaking and writing.
• Spoken Mandarin is an advantage.
Deskripsi Pekerjaan
• Managing the finance team to coordinate and deliver on internal and external financial reporting requirements.
• Manage relationships with stakeholders across the Group to achieve alignment in key business strategies and decisions.
• Manage the Group's cash flows within available facilities, providing appropriate reporting to Directors and Executive Management.
• Provide leadership to the accounting teams on technical accounting matters.
• Full responsibility for the companies' budget, forecast, and financial report.
• Responsible for annual audit engagement with the external auditor and ensuring audit requirements are met.
• Responsibility for company taxation affairs. Monitoring and enhancing tax compliance controls, structures, and automated processes to ensure effective management of the overall tax compliance.
• Ensuring financial controls are effective and appropriately applied within the company.
• Collaborate, design, implement and review finance and insurance systems, policies, and procedures.
Deskripsi Usaha
Samanea is an Asian company, of Asian talents, by Asian investment, for the prosperity of Asian small businesses and the happiness of Asian consumers.
We develops and runs "Markets", large-scale trade centres each between 100,000 sqm and 500,000 sqm for wholesale and retail of all kinds of manufactured goods.
Surrounding our Market, we build tenant warehouses, business hotels, office buildings, and the Samanea Convention and Exhibition Centre, to further help boost our tenants' business. We provide a basket of services from cross-border shipping to local apartments for our tenants' foreign staff.
Samanea is a magnet of Asian talents, where hundreds of us gather together to pave the way to business innovation, connection, and expansion.
Mari gabung GROUP KOMUNITAS GREEN JOBS, dapatkan update lowongan kerja terbaru melalui link berikut ini bit.ly/PendaftaranGreenjobsZoanebt
Pendaftaran Green jobs: Finance Manager di link berikut ini: