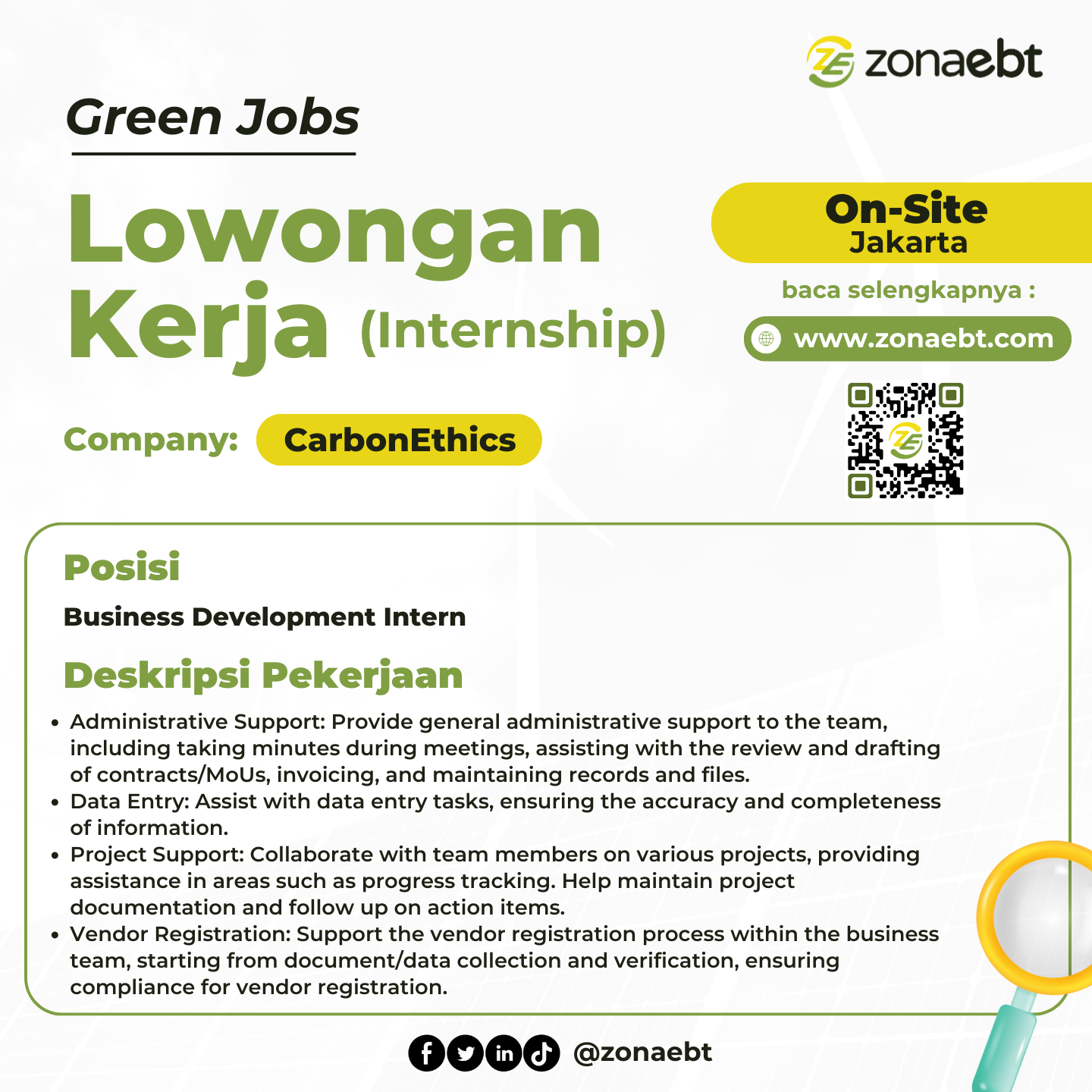 Deskripsi Pekerjaan
Administrative Support: Provide general administrative support to the team, including taking minutes during meetings, assisting with the review and drafting of contracts/MoUs, invoicing, and maintaining records and files.
Data Entry: Assist with data entry tasks, ensuring the accuracy and completeness of information.
Project Support: Collaborate with team members on various projects, providing assistance in areas such as progress tracking. Help maintain project documentation and follow up on action items.
Vendor Registration: Support the vendor registration process within the business team, starting from document/data collection and verification, ensuring compliance for vendor registration.
Deskripsi Usaha
CarbonEthics is an organization that aims to restore the climate balance through nature-based solutions with pioneers in blue carbon conservation. When you conserve with CarbonEthics, you are not only creating positive environmental change, but you are advancing social impact by directly enhancing the livelihoods of our local community partners.
Starting as a not-for-profit organization, we are branching to Social Enterprise to provide more climate solutions through our services: Carbon Calculation, Carbon Consulting, Carbon Sequestration, Monthly Subscription, Climate-friendly Travel, and provide transparency through our Digital Monitoring System.
Our Vision is to be the first choice partner to decarbonize the world with meaningful impact. To achieve that, we are working to inspire and enable climate action, while improving the livelihood of communities and enhancing biodiversity.
In 2019, we started our first blue carbon conservation with mangroves in Thousand Island, Jakarta. Over the years, CarbonEthics has contributed significantly to balancing the climate as we successfully planted 77,3K biota with 5.3K tonnes of CO2e sequestration potential. We are eager to expand our impact by actively collaborating with our sustainable partners.
Mari Gabung GROUP KOMUNITAS GREEN JOBS, dapatkan update lowongan kerja terbaru melalui link berikut ini bit.ly/PendaftaranGreenjobsZoanebt
Pendaftaran Green jobs: Business Development Intern di link berikut ini