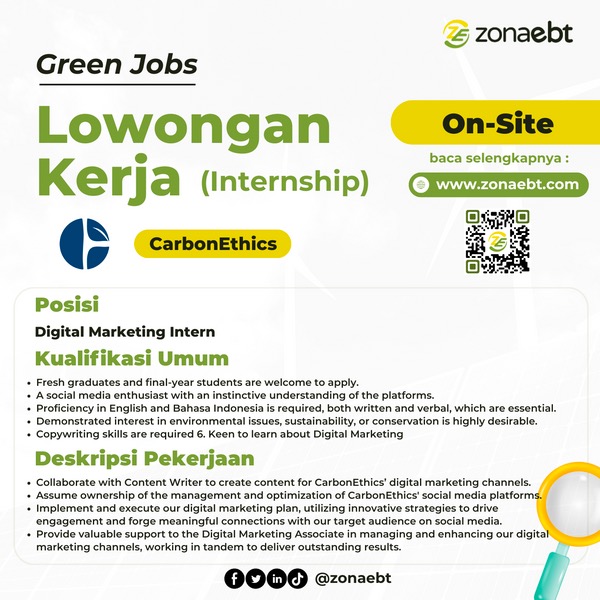 Kualifikasi Umum :
Fresh graduates and final-year students are welcome to apply.
A social media enthusiast with an instinctive understanding of the platforms and their marketing potential.
Proficiency in English and Bahasa Indonesia is required, both written and verbal, which are essential.
Demonstrated interest in environmental issues, sustainability, or conservation is highly desirable.
Copywriting skills are required 6. Keen to learn about Digital Marketing
Deskripsi Pekerjaan :
Collaborate with Content Writer to create content for CarbonEthics' digital marketing channels, this includes (not limited to) LinkedIn, Instagram, Website, and Youtube.
Assume ownership of the management and optimization of CarbonEthics' social media platforms, focusing on LinkedIn, Instagram, and Website to effectively communicate our brand story.
Implement and execute our digital marketing plan, utilizing innovative strategies to drive engagement and forge meaningful connections with our target audience on social media.
Provide valuable support to the Digital Marketing Associate in managing and enhancing our digital marketing channels, working in tandem to deliver outstanding results.
Deskripsi Usaha :
CarbonEthics is an organization that aims to restore the climate balance through nature-based solutions with pioneers in blue carbon conservation. When you conserve with CarbonEthics, you are not only creating positive environmental change, but you are advancing social impact by directly enhancing the livelihoods of our local community partners.
Mari gabung GROUP KOMUNITAS GREEN JOBS, dapatkan update lowongan kerja terbaru melalui link berikut ini bit.ly/PendaftaranGreenjobsZoanebt
Pendaftaran Green jobs : Digital Marketing Intern di link berikut ini :