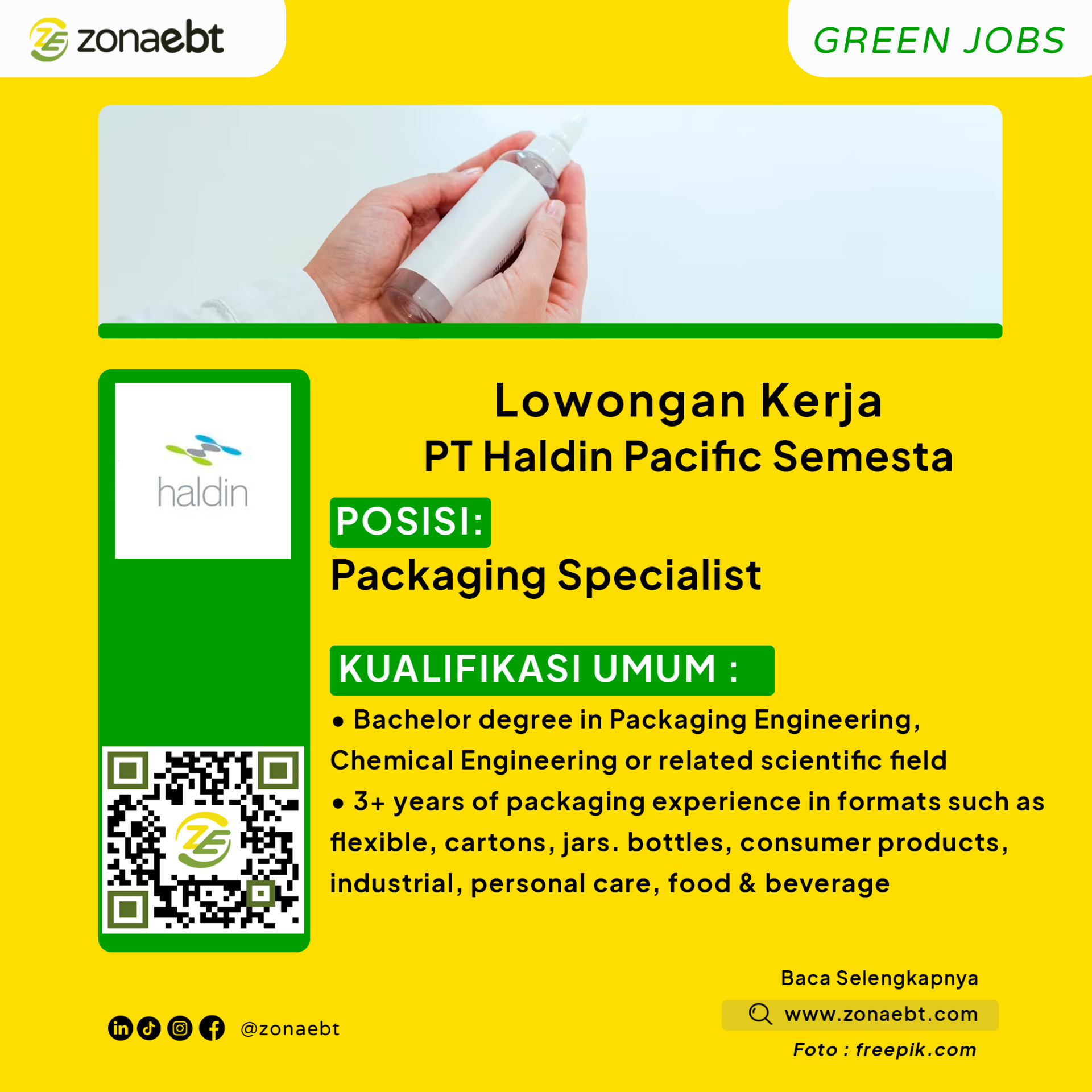 Kualifikasi Umum
• Bachelor degree in Packaging Engineering, Chemical Engineering or related scientific field
• 3+ years of packaging experience in formats such as flexible, cartons, jars. bottles, consumer products, industrial, personal care, food & beverage
• Well understand in packaging design for product in related to all concern associated (out of aesthetic aspect)
• Have technical knowledge of packaging material and related process
• Deep knowledge of fundamental packaging material and manufacturing or applicant process (filling, labeling, capping, etc.)
• Placement : Cibitung, Bekasi
Deskripsi Pekerjaan
• Emphasis on sustainable packaging solutions, development of recyclable/eco friendly packaging, incorporation of post-consumer recycle solutions and solving internal.
• Conduct research and development of optimum packaging to better meet customer and consumers needs and wants.
• Conduct testing required to support packaging improvements and new packaging launches, including all sizing, filling and ship stability tests as required.
• Evaluate and test shipping supplies; make suggestions on improvements (i.e. pallets, bottles, jars, carton, label, etc.).
• Recommend new types of packaging and sources to management teams.
• Work closely with Sustainability, Purchasing, R&D & Marketing to assure proposed packaging is desirable from all points of view.
Deskripsi Usaha
For more than 30 years Haldin has provided natural building blocks across the nation. Starting with vanilla business in the US, Haldin grows its business into 12 building block categories ranging from tea, coffee, cocoa, to essence and essentrate. Haldin also set up the whole chain facility from origin to the solution and used high-quality traceable raw materials. Besides, our main Cibitung plant, Haldin operates several plants in various locations such as Cikarang, Setu, Lampung and Ciamis. Hundreds of professionals in many fields became part of Haldin. And as we grow, we needmore talents to work with us reaching new goals in the future. Owning a reputation as an expert in nature, Hadin offers great opportunities to expand your career and develop yourself more. Be part of us, and let's create a better planet for an exceptional future.
Mari gabung GROUP KOMUNITAS GREEN JOBS, dapatkan update lowongan kerja terbaru melalui link berikut ini bit.ly/PendaftaranGreenjobsZoanebt
Pendaftaran Green jobs: Packaging Specialist di link berikut ini