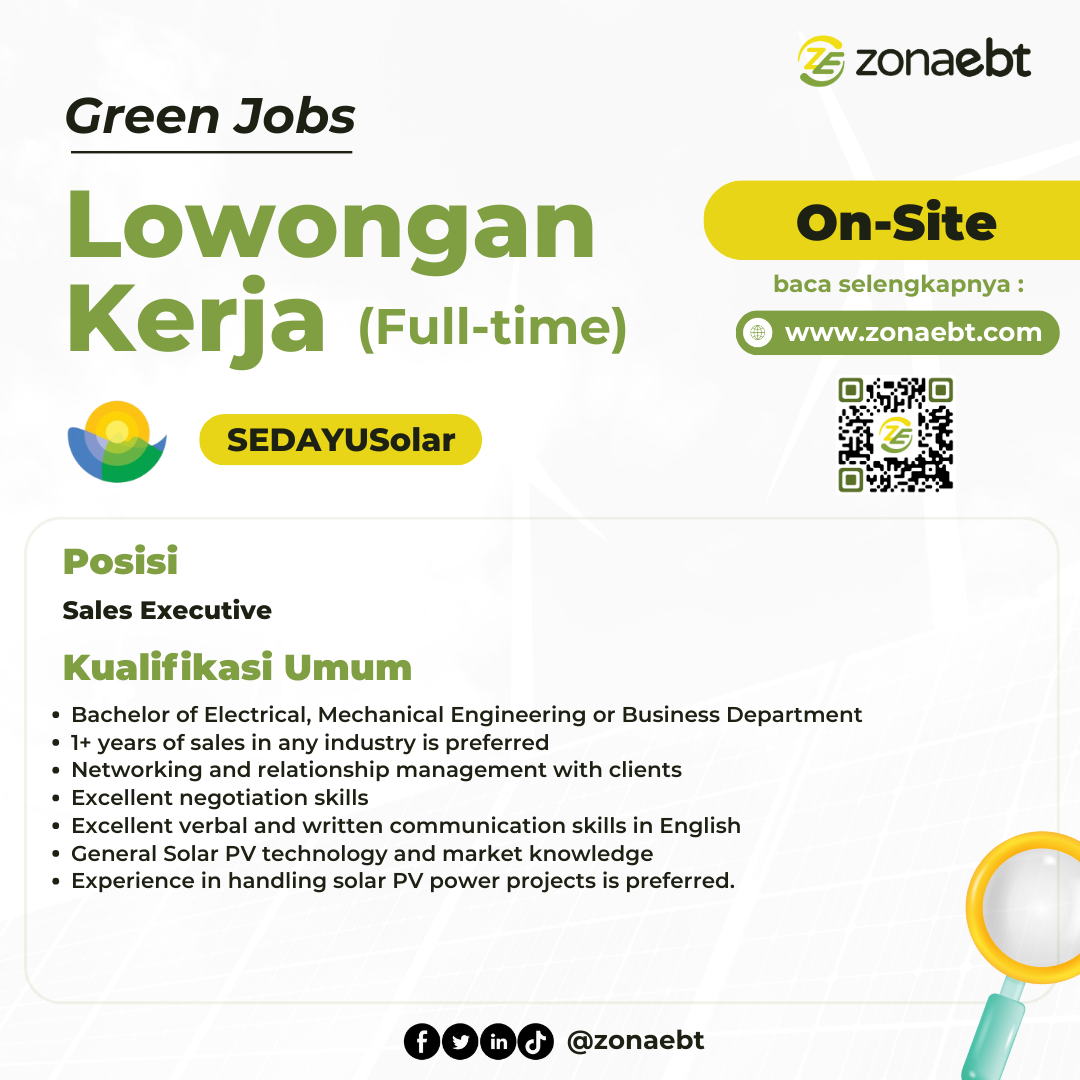 Kualifikasi umum :
• Bachelor of Electrical, Mechanical Engineering or Business Department
• 1+ years of sales in any industry is preferred
• Networking and relationship management with clients
• Excellent negotiation skills
• Excellent verbal and written communication skills in English
• General Solar PV technology and market knowledge
• Experience in handling solar PV power projects is preferred.
Deskripsi Pekerjaan :
• Generate preliminary proposal by utilizing solar software
• Collate estimation of the potential existing regional market for solar projects.
• Prepare sales/revenue forecasts and implement strategies to achieve sales, revenue, profit, and market-share company objectives and deliver on annual and quarterly sales/revenue/profit plans
• Analyze sales data, market trends and review sales plans as necessary
• Manage the sales process for tenders and direct sales to analyze margins or reasons for lost orders
• Provide/organize sales support, monitor status, and ensure achievement on a sustained basis
• Ensure prompt follow-up for customer orders, commercial terms, payments, approvals, problem resolution, etc
• Coordinate with internal parties and external parties to ensure customer's needs are fulfilled.
Deskripsi Usaha :
SEDAYUSolar is Indonesia's Leading Solar Energy Company with more than 200 Projects since 2009.Supported by the world's leading Renewable Energy companies and experienced Renewable Energy professionals with extensive local knowledge, SEDAYUSolar, an ISO 9001:2008 and OHSAS18001 certified EPC company, is dedicated to provide sustainable renewable energy solutions to suit the Indonesian market.
Mari gabung GROUP KOMUNITAS GREEN JOBS, dapatkan update lowongan kerja terbaru melalui link berikut ini http://bit.ly/PendaftaranGreenjobsZoanebtbsZoanebt
Pendaftaran Green jobs  Sales Executive