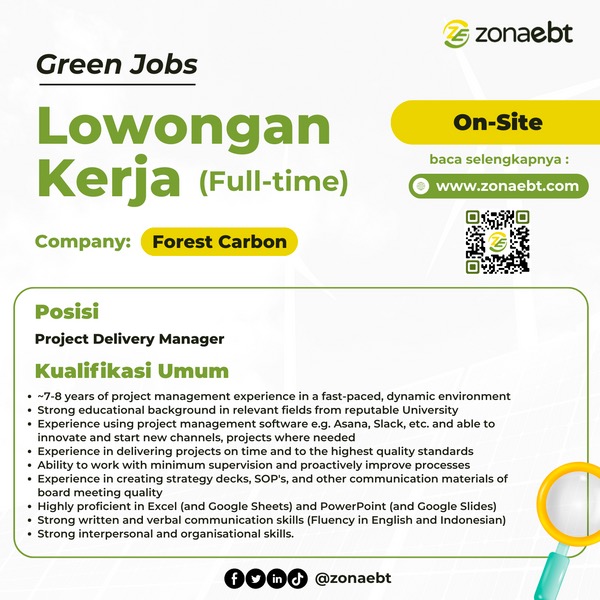 Kualifikasi Umum :
7-8 years of project management experience in a fast-paced, dynamic environment
Strong educational background in relevant fields from reputable University
Experience using project management software e.g. Asana, Slack, etc. and able to innovate and start new channels, projects where needed
Experience in delivering projects on time and to the highest quality standards • Ability to work with minimum supervision and proactively improve processes
Experience in creating strategy decks, SOP's, and other communication materials of board meeting quality
Highly proficient in Excel (and Google Sheets) and PowerPoint (and Google Slides)
Strong written and verbal communication skills (Fluency in English and Indonesian)
Strong interpersonal and organisational skills
Personal accountability, problem solver, team player, and great attention to detail
Technical certification in project management practice is a plus – IE PMD PRO, Agile, etc
Deskripsi Pekerjaan :
Support management on a range of strategic, administrative and organizational tasks
Quality development of documents according to internal and external requirements
Writing, research, and copy editing where needed
Cross-coordination with other managers to support project management objectives
Assist with project management process improvements across the company by improving on current systems or developing new systems where needed
Periodic progress reporting to the Operational Director on the achievements and obstacles faced by project teams
Task tracking, reporting, and managing dependencies in collaboration with the technical unit to ensure the timely delivery of projects
Anticipate future bottlenecks/roadblocks and provide solutions or recommendations to the Operational Director on project needs to improve project delivery
Perform such other duties as may be assigned across FC projects
Deskripsi Usaha :
Forest Carbon restores degraded wetland forests. Our company is a premium restoration project developer in Southeast Asia that delivers benefits for local communities, biodiversity and investors through a proven business model.
Mari gabung GROUP KOMUNITAS GREEN JOBS, dapatkan update lowongan kerja terbaru melalui link berikut ini http://bit.ly/PendaftaranGreenjobsZoanebt
Pendaftaran Green jobs : Project Delivery Manager di link berikut ini :