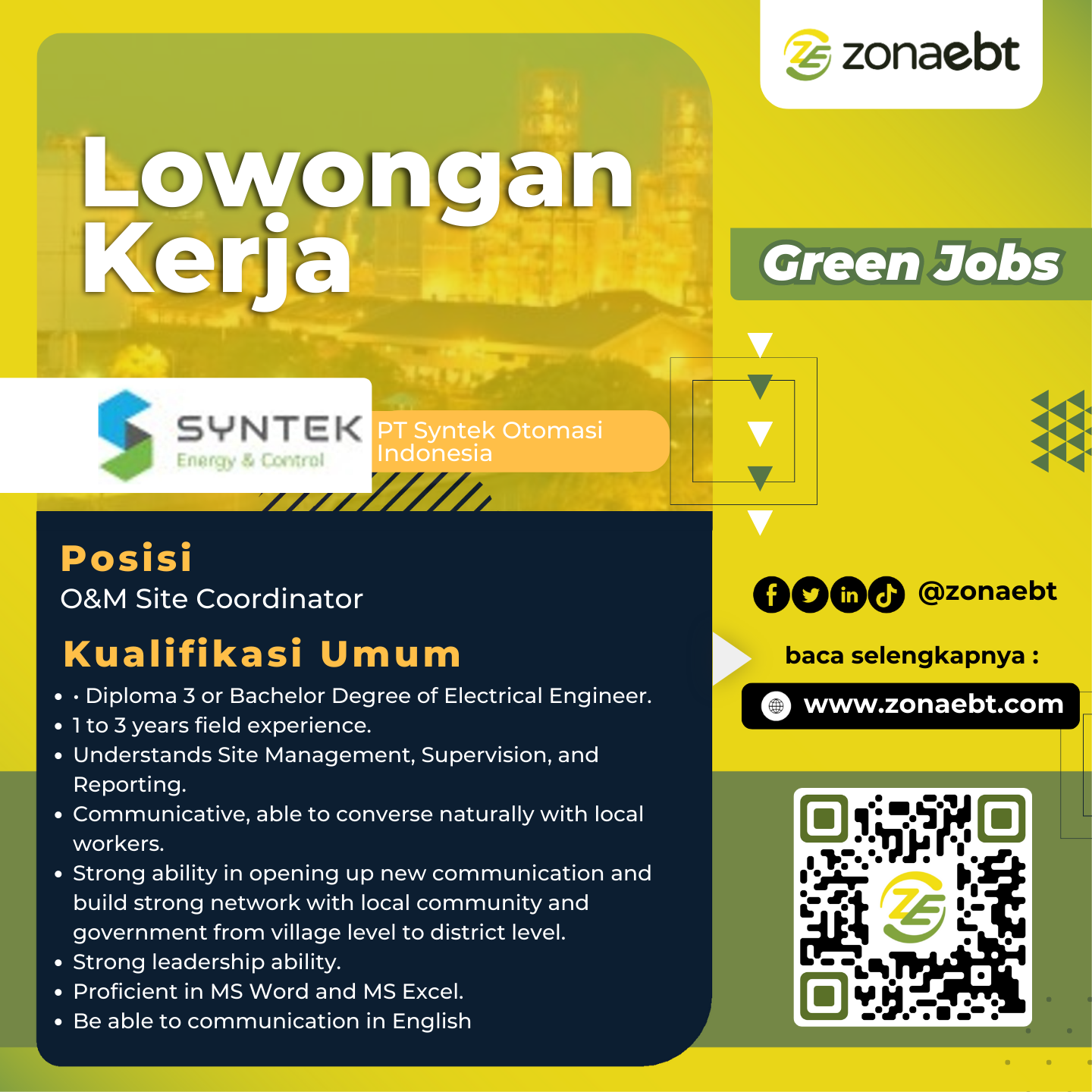 Kualifikasi Umum
• Diploma 3 or Bachelor Degree of Electrical Engineer.
• 1 to 3 years field experience.
• Understands Site Management, Supervision, and Reporting.
• Communicative, able to converse naturally with local workers.
• Strong ability in opening up new communication and build strong network with local community and government from village level to district level.
• Strong leadership ability.
• Proficient in MS Word and MS Excel.
• Be able to communication in English
• Local Engineer with National Experience will be preferred
Deskripsi Pekerjaan
• Leading Technicians, Operators, Cleaning Service, and Security Teams in Operations and Maintenance activity for Solar PV Power Plant on site
• Perform daily, weekly, monthly, and yearly O&M activity, including creating expense report, operational budgeting, and scheduling
• Build and maintain strategic relationship with local community and government related stakeholder (including: attending meeting, hold presentation, and day-to-day communication)
• Coordinating with O&M Manager
Deskripsi Usaha
A fast-growing Start-Up on Energy and Control Company, focusing on Next Generation Automation and Modern Electric Power solutions, is on the lookout for experienced, talented individuals able to work together in a team to develop solutions for the ever growing Indonesian industry."
Based in Jakarta, Indonesia, PT Syntek Otomasi Indonesia is a group of professionals, engineers, and technicians who work together to provide customers the best means in automation and control, IoT, electric power system, renewable energy, and energy management & saving. Our expertise ranges from consultancy, engineering, procurement, and construction.
With vast project experience in the country and abroad, we are capable of delivering advanced solutions to empower the nation.
Mari gabung GROUP KOMUNITAS GREEN JOBS, dapatkan update lowongan kerja terbaru melalui link berikut ini bit.ly/PendaftaranGreenjobsZoanebt