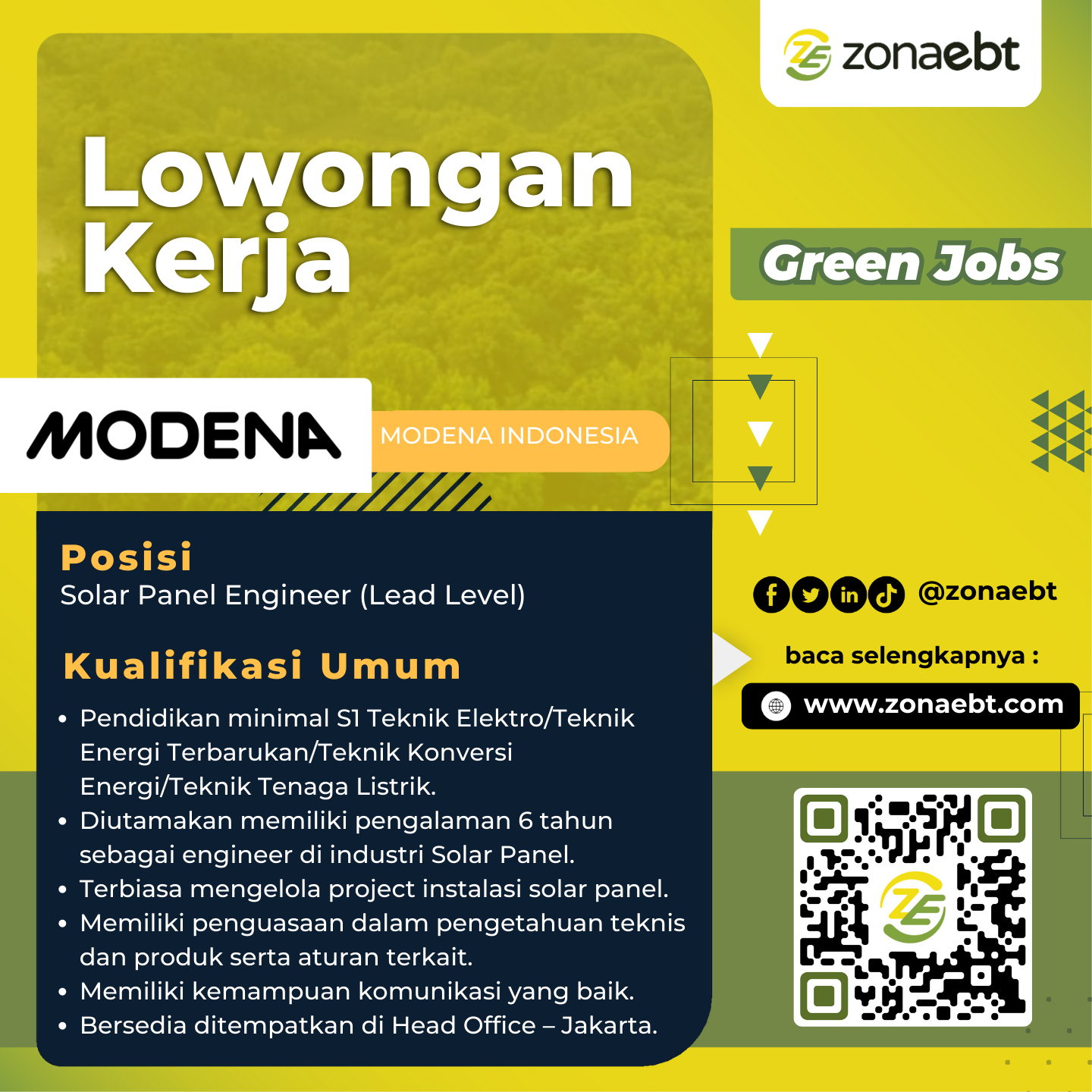 Kualifikasi Umum
• Pendidikan minimal S1 Teknik Elektro/Teknik Energi Terbarukan/Teknik Konversi Energi/Teknik Tenaga Listrik.
• Diutamakan memiliki pengalaman 6 tahun sebagai engineer di industri Solar Panel.
• Terbiasa mengelola project instalasi solar panel.
• Memiliki penguasaan dalam pengetahuan teknis dan produk serta aturan terkait.
• Memiliki kemampuan komunikasi yang baik.
• Bersedia ditempatkan di Head Office – Jakarta.
Deskripsi Pekerjaan
• Melakukan pengawasan dalam project instalasi atau perbaikan agar tepat waktu, tepat biaya, dan memenuhi standar kerja.
• Melakukan analisa potensi pengembangan produk.
• Menyusun pedoman perbaikan dan instalasi.
• Melakukan quality check & quality Inspection atas metode instalasi dan perbaikan yang dilakukan teknisi lapangan.
• Melakukan pemeriksaan atas standar kualitas dan keamanan sparepart yang dapat digunakan dalam proses pemasangan atau perbaikan.
• Membangun hubungan baik dengan suplier, kontraktor, dan regulator untuk memastikan kesuksesan impementasi project.
• Menyusun laporan rutin.
Deskripsi Usaha
Since its inception in 1981, MODENA has become a trusted home appliances provider that markets 3 major product lines – cooking, cooling and cleaning, with a distinctive Italian design elegance. Not only to present high quality and realiable appliances, MODENA also implements Quality Management System ISO 9001 – 2008, and provides a fleet of competent call center agents as frontliners and service centers spread in tens of cities all over the country to ensure customer's satisfaction and loyalty in the after sales service. MODENA has grown to be a market leader in the industry which is marked with a series of accolades that reflect company's outstanding achievements. In 2010 and 2011 MODENA was recognized as number one brand most widely purchased in Indonesia for freestanding cooker, built-in hob, built-in oven and exhaust hood product categories, and has acquired over half of national market share. Reseached on customer's satisfaction toward cooker/stove in the country conducted by MARS, has awarded MODENA with 5 Stars Quality Global Customer Satisfaction Standard (GCSS), which includes highest customer satisfaction index on customer expectation, customer loyalty, perceived quality and perceived value.For further information please visit www.modena.co.id.
Mari gabung GROUP KOMUNITAS GREEN JOBS, dapatkan update lowongan kerja terbaru melalui link berikut ini bit.ly/PendaftaranGreenjobsZoanebt
Pendaftaran Green jobs: Solar Panel Engineer (Lead Level) di link berikut ini: