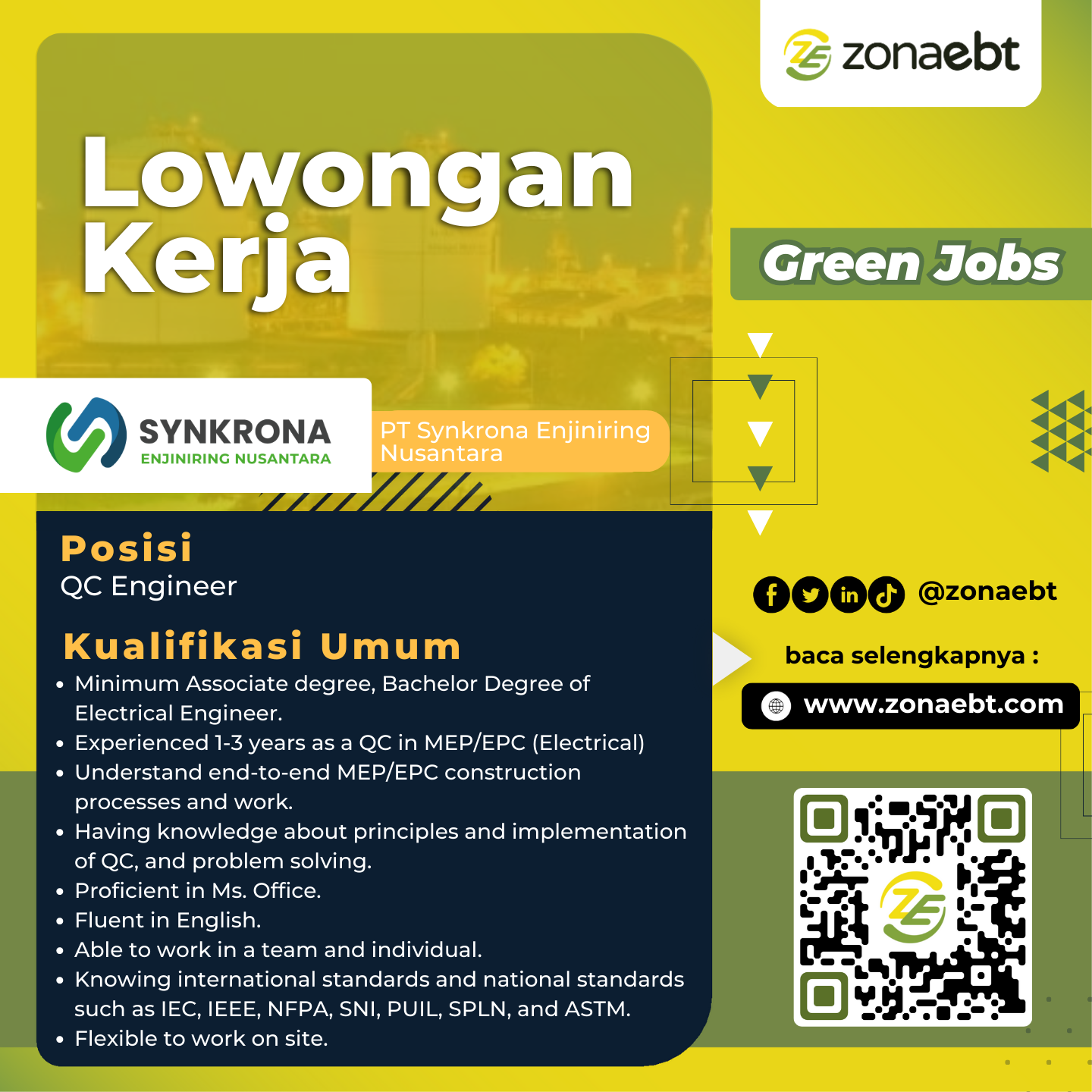 Kualifikasi Umum
• Minimum Associate degree, Bachelor Degree of Electrical Engineer.
• Experienced 1-3 years as a QC in MEP/EPC (Electrical)
• Understand end-to-end MEP/EPC construction processes and work.
• Having knowledge about principles and implementation of QC, and problem solving.
• Proficient in Ms. Office.
• Fluent in English.
• Able to work in a team and individual.
• Knowing international standards and national standards such as IEC, IEEE, NFPA, SNI, PUIL, SPLN, and ASTM.
• Flexible to work on site.
Deskripsi Pekerjaan
• Ensure and control the implementation quality of work (Quality Control) at the project site following the inspection and Test Plan (ITP) and Project Quality Plan (PQP).
• Review and control all the inspection Checklist Reports and create confirmation to the construction team (PM/SM) to determine repair/replacement if needed.
• Ensure and Assist that the construction/project team can implement QC Inspection Checklist Report Form.
• Participate in internal and external audits as needed, and assist in developing and implementing QC initiatives.
• Arrange site visit schedule for review & audit and follow the priority of work progress in the project.
• Ensure QC documents are prepared, completed, and submitted to QA Engineer, PM, and SM.
• Active in the organization and good communication
• Understanding the audit process and prevention on EPC Projects.
• Coordinate all the activities and inspection result on-site through Project Manager (PM/Site Manager (SM)
Deskripsi Usaha
PT Synkrona Enjiniring Nusantara (Synkrona) merupakan perusahaan konsultan yang didirikan untuk berkontribusi meningkatkan pertumbuhan energi terbarukan di Indonesia. Selama 4 tahun, Synkrona telah berpartisipasi di berbagai proyek energi terbarukan, termasuk proyek energi terbarukan skala utility, skala industri dan komersil, serta skala komunitas untuk NGO dan/atau pemerintah lokal. Dalam keterlibatannya, Synkrona memberikan solusi pada aspek teknis, legal, dan komersil yang bersifat personal dan disesuaikan secara khusus untuk setiap masalah.
Mari gabung GROUP KOMUNITAS GREEN JOBS, dapatkan update lowongan kerja terbaru melalui link berikut ini bit.ly/PendaftaranGreenjobsZoanebt
Pendaftaran Green jobs: QC Engineer di link berikut ini: