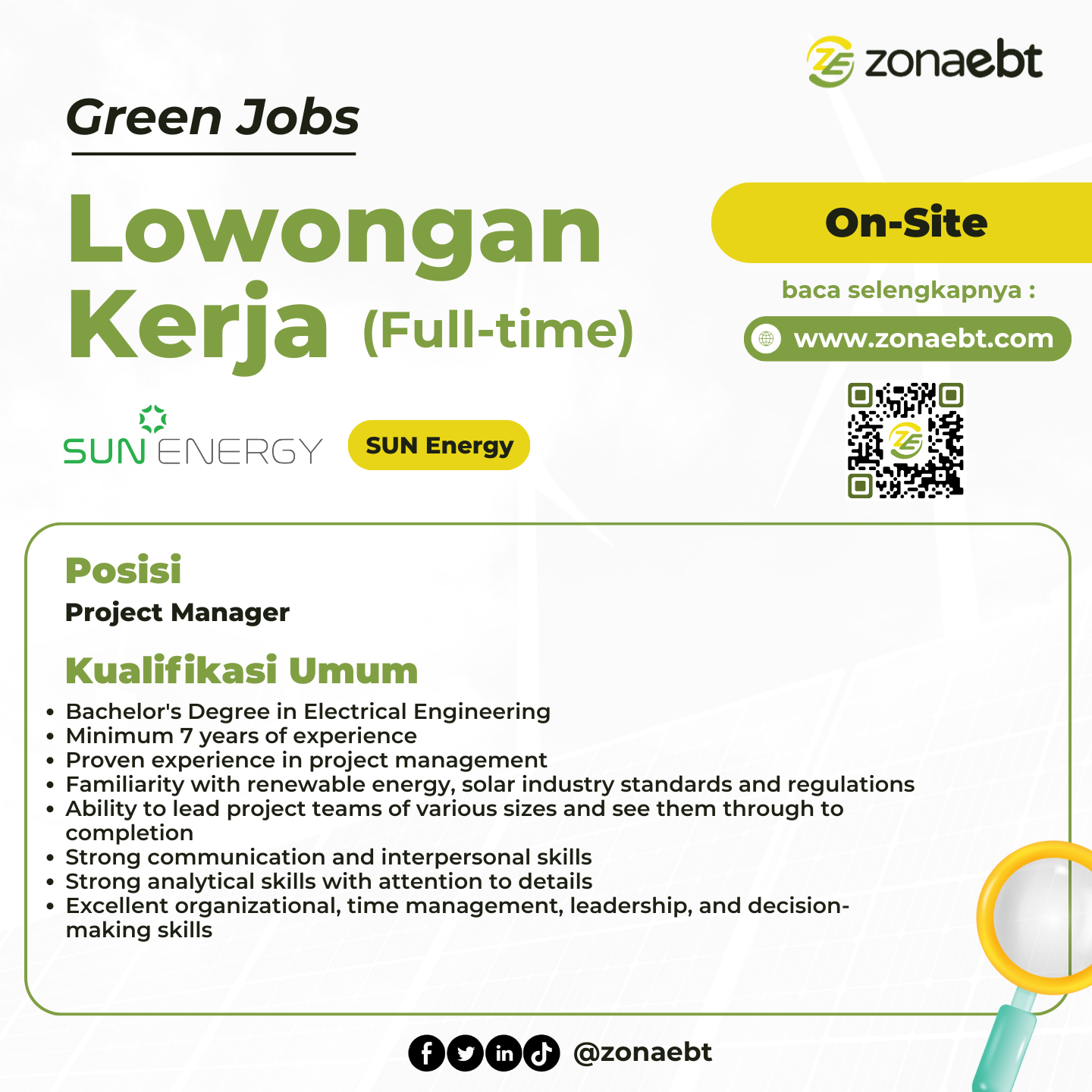 Kualifikasi Umum
•Bachelor's Degree in Electrical Engineering
•Minimum 7 years of experience
•Proven experience in project management
•Familiarity with renewable energy, solar industry standards and regulations
•Ability to lead project teams of various sizes and see them through to completion
•Strong communication and interpersonal skills
•Strong analytical skills with attention to details
•Excellent organizational, time management, leadership, and decision-making skills.
Deskripsi Pekerjaan
•Assist tendering process for project execution & negotiation with prospective client
•Selecting & hiring potential Contractors
•Developing & arranging Contractor's contract
•Planning project resource (budgeting, scheduling, specifications, client's special requirements)
•Responsible to aspect of time, cost, & quality.
Deskripsi Usaha
Since 2016, SUN Energy has become the leading solar energy developer for the Commercial & Industrial sectors in Indonesia with an operating presence in three countries. The company provides a clean energy ecosystem with tailor-made integrated solar solutions for a broad range of customers. SUN Energy's vision is to actively provide innovative technologies to promote a sustainable future that is accessible to as many people as possible. SUN Energy will continue to develop additional renewable energy projects in Indonesia and key regional markets. SUN Energy is headquartered in Singapore with over 100 employees across the region.
Mari Gabung GROUP KOMUNITAS GREEN JOBS, dapatkan update lowongan kerja terbaru melalui link berikut ini bit.ly/PendaftaranGreenjobsZoanebt
Pendaftaran Green jobs: Project Manager di link berikut ini