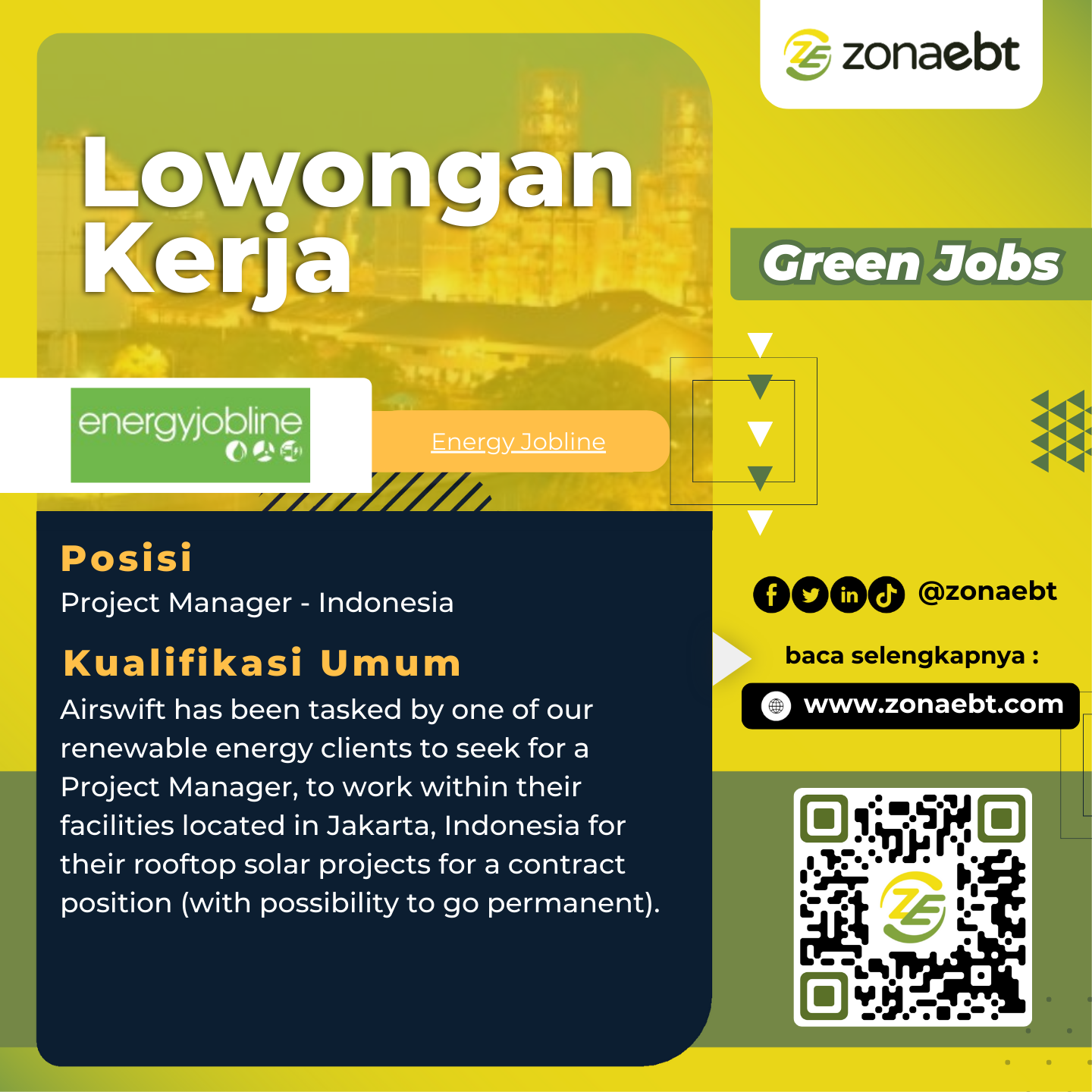 Kualifikasi Umum
Airswift has been tasked by one of our renewable energy clients to seek for a Project Manager, to work within their facilities located in Jakarta, Indonesia for their rooftop solar projects for a contract position (with possibility to go permanent).
Deskripsi Pekerjaan
Experienced Solar Project Manager required for commercial and industrial solar rooftop projects Need a good hands-on Project Manager with strong experience ideally in rooftop solar Willing to travel to project sites all around Jakarta Direct rooftop project management experience and keen to expand this further with a global company Budget / Documentation and contractor experience for Solar Projects with a strong engineering background Fluent in Bahasa Indonesia and English.
Deskripsi Usaha
Energy Jobline is the largest and fastest growing global Energy Job Board and Energy Hub. We have an audience reach of over 4 million energy professionals, 400,000+ monthly advertised global energy and engineering jobs, and work with the leading energy companies worldwide.We focus on the Oil & Gas, Renewables, Engineering, Power, and Nuclear markets as well as emerging technologies in EV, Battery, and Fusion. We are committed to providing the most talented energy professionals for our client recruitment campaigns and ensuring we offer the most exciting career opportunities for our jobseekers. Energy Jobline has quickly risen to become the leading and pioneering Energy platform providing online recruitment solutions to the energy industry globally.Our core values are innovation, inclusivity, commitment, results and diversity. We strive towards these goals across all aspects of our business and that's why we never stop perfecting our route to market. We appreciate that the energy industry greatest resource is people, that's why we work with the leading clients and best candidates worldwide.Our commitment to Women In Energy, BAME and Diversity Groups, as well as unique and passive audiences, aids in setting us apart from our key competitors. No other online recruitment platform has aligned itself with the same breadth and depth of quality partners including female engineering bodies, online energy news hubs, community platforms, industry associations and more. The strength of these partnerships allows us to deliver a database which is exclusive, exceptional and individual to Energy Jobline.The team at Energy Jobline focus entirely on delivering value for our clients and candidates, quality is central to everything we do. We have a huge level of loyalty and engagement from our candidates- in which over a third of our candidates only use Energy Jobline for their job search. A figure we are very proud of and work hard to maintain.
Mari Gabung GROUP KOMUNITAS GREEN JOBS, dapatkan update lowongan kerja terbaru melalui link berikut ini bit.ly/PendaftaranGreenjobsZoanebt
Pendaftaran Green jobs: Project Manager – Indonesia di link berikut ini