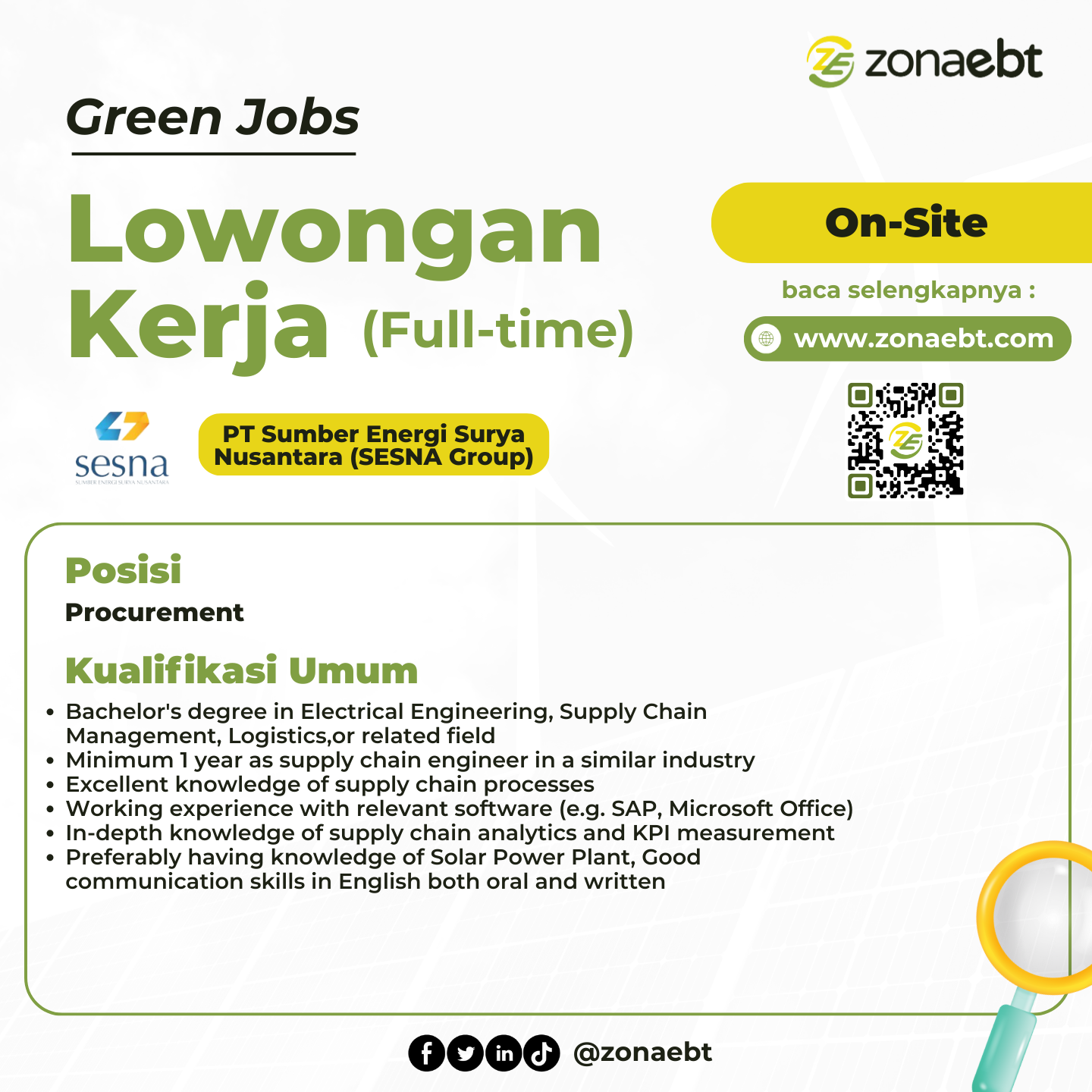 Kualifikasi Umum
• Bachelor's degree in Electrical Engineering, Supply Chain Management, Logistics,or related field
• Minimum 1 year as supply chain engineer in a similar industry
• Excellent knowledge of supply chain processes
• Working experience with relevant software (e.g. SAP, Microsoft Office)
• In-depth knowledge of supply chain analytics and KPI measurement
• Preferably having knowledge of Solar Power Plant, Good communication skills in English both oral and written.
Deskripsi Pekerjaan
Manage the end-to-end import process, including sourcing, negotiation, offer analyses, documentation, and delivery of goods
• Execute international logistics with multiple incoterms such as EXW and CIF such as by handling import clearance
• Update, monitor, and control the whole project's costs to ensure that the actual expenditures are meeting with the agreed target
• Creating a strong database for all suppliers and prices based on each projects' component
• Maintain supply chain inventory and records by updating the database for each project
• Develop and implement safety guidelines in all aspects of the supply
• Ensure supply chain processes meet legal requirements and standards
• Communicate and negotiate with suppliers and vendors to land more profitable deals
• Collaborate with other departments to create coordinated plans for business growth.
Deskripsi Usaha
SESNA was established in 2013 as a Solar PV System developer with a satisfactory track record of a highly profitable operation in Eastern Indonesia.
In 2019, SESNA diversified its business to wider market & segmentations, including Commercial & Industrial sector, also Mining & Mineral Resources. SESNA is providing Solar Zero Capex Service, Turnkey EPC business, and O&M business scheme.
SESNA – Solar Warrior Indonesia gladly encourages Indonesian to contribute actualizing solar energy implementation to achieve better future of life.
Mari Gabung GROUP KOMUNITAS GREEN JOBS, dapatkan update lowongan kerja terbaru melalui link berikut ini bit.ly/PendaftaranGreenjobsZoanebt
Pendaftaran Green jobs:Procurement di link berikut ini
To apply, please submit your application at meidynasilva@s-energy.id with subject: Position_Your Name