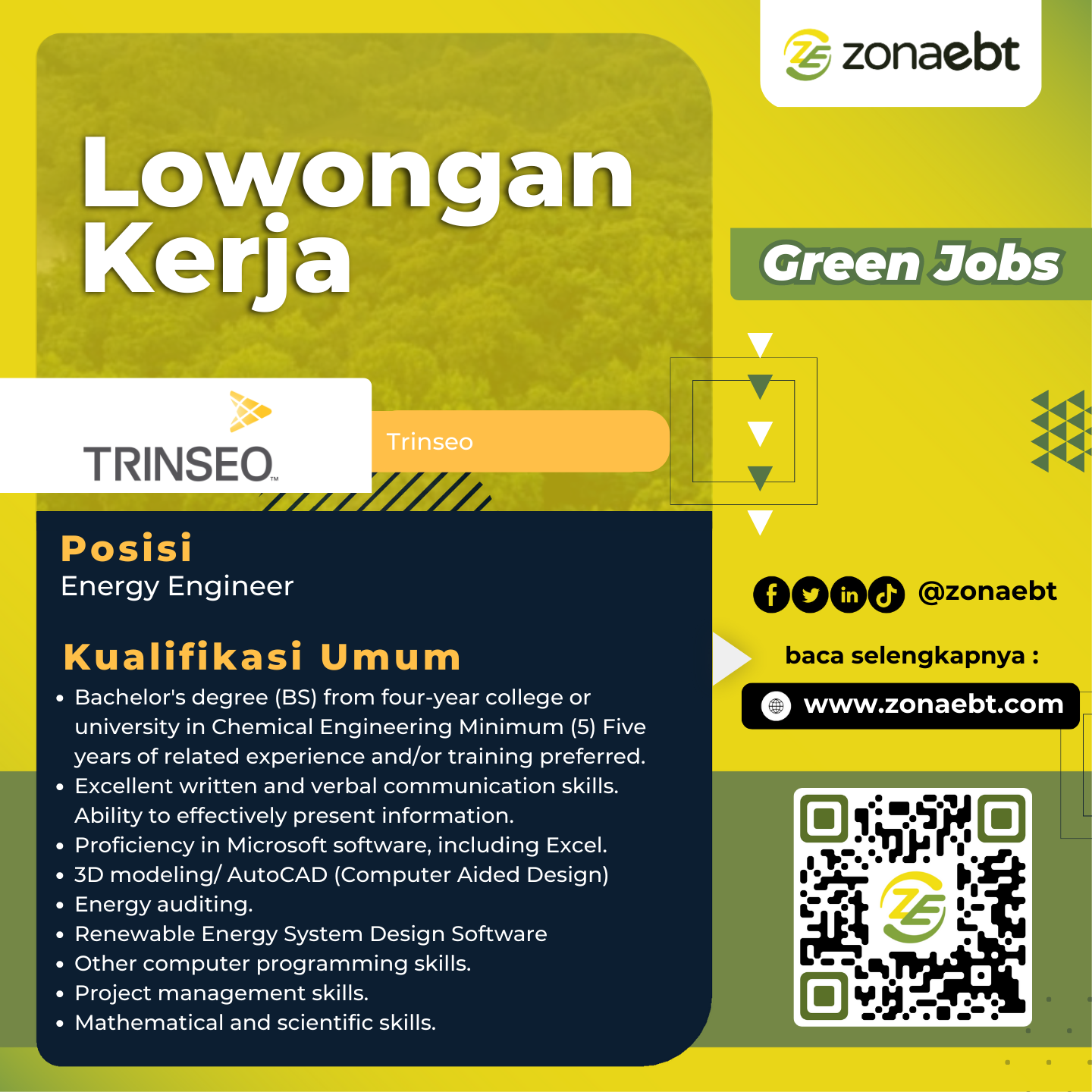 Kualifikasi Umum
Bachelor's degree (BS) from four-year college or university in Chemical Engineering Minimum (5) Five years of related experience and/or training preferred.
Excellent written and verbal communication skills. Ability to effectively present information.
Proficiency in Microsoft software, including Excel.
3D modeling/ AutoCAD (Computer Aided Design)
Energy auditing.
Renewable Energy System Design Software
Other computer programming skills.
Project management skills.
Mathematical and scientific skills.
Proficiency with energy savings calculation spreadsheets.
Experience with Energy Modeling Experience in delivering Project Management consultancy Experience conducting energy audits.
Responsible for completing assigned projects according to project schedule.
Deskripsi Pekerjaan
• Coodinates energy reduction reporting on site/region (coordinates with all plants on site) including energy deep drill for the site.
• Participates in global energy reduction network
• Sets up energy reporting file (Use Rho as an example) including energy consumers, heat sinks, CO2 factors
• Detailed Assesments together with plant focal point in plants
• Identify, support and execute carbon excellence projects (eg LED lights, VFD implementation, replacement of old high energy consuming equipment)
• Identify, support and execute decarbonization capital projects on site
• Generate scopes of work that satisfy program requirements.
• Perform renewable energy feasibility and generation assessments.
• Perform energy use analysis
• Be in-house expert on energy models and energy savings calculations.
• Create in-house spreadsheet calculator for energy and water savings measures.
• Conduct site visits and perform in-field audit
Deskripsi Usaha
Trinseo (NYSE: TSE), a specialty material solutions provider, partners with companies to bring ideas to life in an imaginative, smart, and sustainability-focused manner by combining its premier expertise, forward-looking innovations and best-in-class materials to unlock value for companies and consumers.
From design to manufacturing, Trinseo taps into decades of experience in diverse material solutions to address customers' unique challenges in a wide range of industries, including consumer goods, mobility, building and construction, and medical.
Trinseo's approximately 3,400 employees bring endless creativity to reimagining the possibilities with clients all over the world from the company's locations in North America, Europe, and Asia Pacific. Trinseo reported net sales of approximately $4.8 billion in 2021.
Mari gabung GROUP KOMUNITAS GREEN JOBS, dapatkan update lowongan kerja terbaru melalui link berikut ini bit.ly/PendaftaranGreenjobsZoanebt
Pendaftaran Green jobs: Energy Engineer di link berikut ini: