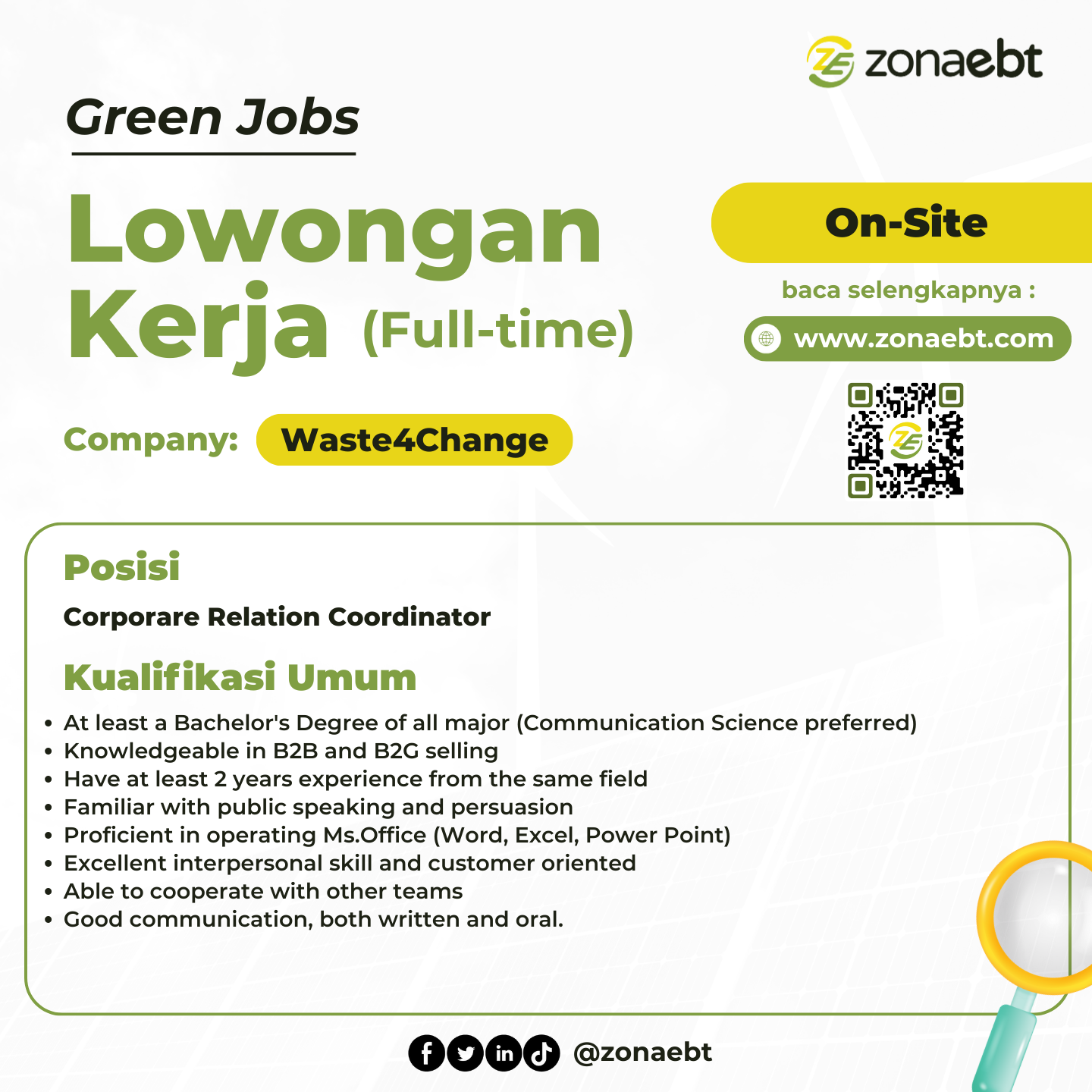 Kualifikasi Umum
• At least a Bachelor's Degree of all major (Communication Science preferred).
• Knowledgeable in B2B and B2G selling.
• Have at least 2 years experience from the same field
• Familiar with public speaking and persuasion.
• Proficient in operating Ms.Office (Word, Excel, Power Point).
• Excellent interpersonal skill and customer oriented.
• Able to cooperate with other teams.
• Good communication, both written and oral.
Deskripsi Pekerjaan
• Helping the Corporate Relations Officer team sell collect Waste4Change services according to the target. • Ensure that the CRO team sells according to existing standards. • Ensure that the CRO team achieves the target every month. • Become a consultant for the CRO team in selling to potential leads. • Work closely with Account Management Leads to improve sales quality. • Doing monthly report to Account Management Lead.
Deskripsi Usaha
PT Wasteforchange Alam Indonesia (Waste4Change) is a responsible waste management company that was founded in 2014, located in Bekasi, West Java.We give services for corporate, small business, until personal residences.Waste4Change offers upstream and downstream waste management solutions consisting of four lines, including:1. Consult – address your waste management problems and solutions through detailed research & study2. Campaign – aids you in spreading a message of responsible waste management practices through training and public relation campaigns3. Collect – assists you in responsibly managing your waste through waste collections and treatments4. Create – improve your business life cycle through the implementation of circular economy principles.
Mari Gabung GROUP KOMUNITAS GREEN JOBS, dapatkan update lowongan kerja terbaru melalui link berikut ini bit.ly/PendaftaranGreenjobsZoanebt
Pendaftaran Green jobs: Corporare Relation Coordinator di link berikut ini