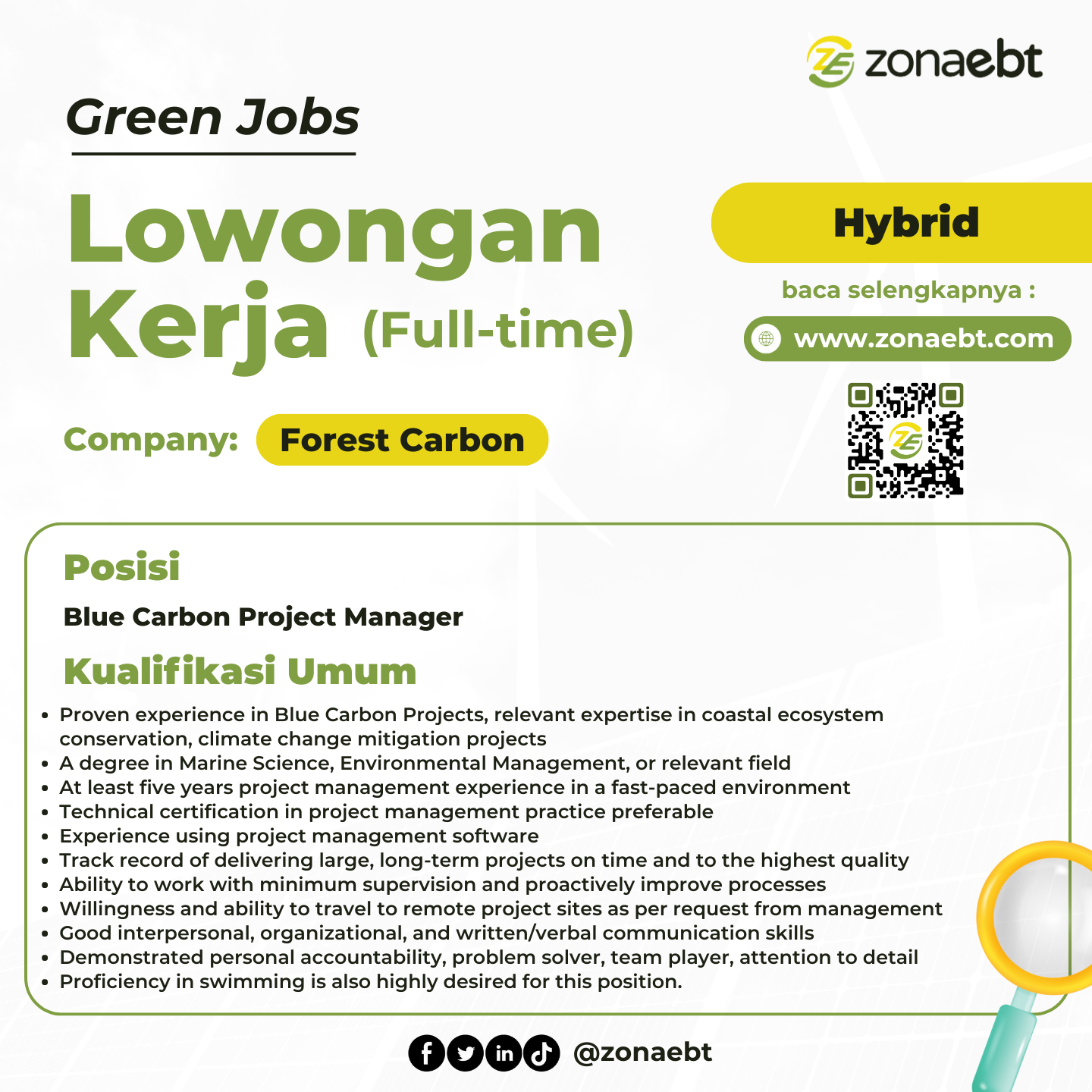 Kualifikasi Umum
Proven experience in Blue Carbon Projects, relevant expertise in coastal ecosystem conservation, climate change mitigation projects, or a comprehensive understanding of marine conservation issues is a distinct advantage.
• A degree in Marine Science, Environmental Management, or relevant field is a clear advantage but not a must.
• At least five years project management experience in a fast-paced environment.
• Technical certification in project management practice preferable (e.g., PMD PRO, Agile, etc.).
• Experience using project management software (e.g., Asana, Slack, etc.).
• Track record of delivering large, long-term projects on time and to the highest quality standards. • Ability to work with minimum supervision and proactively improve processes.
• Willingness and ability to travel to remote project sites as per request from management.
• Good interpersonal, organizational, and written/verbal communication skills (in English and Indonesian).
• Demonstrated personal accountability, problem solver, team player, and attention to detail.
• Proficiency in swimming is also highly desired for this position.
Deskripsi Pekerjaan
The Forest Carbon's Blue Carbon Program Manager will be responsible for the overall implementation and effective project management of the program's activities in Papua, which include:
• Ensure that project deliverables align with partner organizations, stakeholder, and donor standards and interests, while adhering to Forest Carbon's policies, funding agreements, and local requirements.
• Oversee and coordinate the work of project implementing partners and technical service providers, including setting timelines, developing field work schedules, managing field logistics, monitoring partner budgets, spendings and procurement processes, acquire permits and ensure training documentation.
• Ensure strong data collection (technical, narrative) to support reporting and funding activities.
• Work closely with Forest Carbon's technical teams (GIS, IT, community, biodiversity, and project field teams: Field Operation Manager, Data Collection, Biodiversity, and Community Engagement) to ensure the Blue Carbon project is on target for all reporting and contract deliverables.
• Provide day-to-day task tracking across all technical components for the Blue Carbon project, managing dependencies and tracking staff utilization.
• Quality assurance on technical documents according to internal systems
• Writing, research and copy editing where needed.
• Cross-coordination with other managers (E&S Performance Manager, and Community Development Manager) to support project management objectives.
• Periodic progress reporting to Technical Director on the achievements and obstacles faced by project teams.
• Anticipate future bottlenecks/roadblocks and provide solutions/recommendations to the Technical Director on project needs to improve project delivery.
• Overseeing communication and release of materials into the public domain.
• Perform such other duties as may be assigned across FC projects.
Deskripsi Usaha
Forest Carbon restores degraded wetland forests. Our company is a premium restoration project developer in Southeast Asia that delivers benefits for local communities, biodiversity, and investors through a proven business model. With offices in Jakarta and Singapore, Forest Carbon is built on a track record of success in the region. The team brings a decade of experience working on the ground, mapping wetlands, assessing below-ground carbon storage, hiring local workers, and obtaining community support. Forest Carbon relies on this technical expertise and a growing pipeline of project opportunities to secure millions in private sector investment for threatened ecosystems. Forest Carbon's Sumatra Merang Peatland Project is now a proven business model for large-scale restoration, with more than 5 million Euro in investment capital raised. Sales secured from major global brands support restoration efforts on more than 22,000 hectares, which reduces the risk of fire, strengthens the rural economy, and creates jobs, and delivers returns for investors and partners. This type of environmental and social performance is integrated into every level of Forest Carbon's operations and management systems. Forest Carbon recently launched its first Blue Carbon project in Papua, Indonesia. Forest Carbon has identified a pilot area for a coastal and marine ecosystem project that offers potential to protect mangroves, marine biodiversity and seagrass in Papua, Indonesia.
Mari Gabung GROUP KOMUNITAS GREEN JOBS, dapatkan update lowongan kerja terbaru melalui link berikut ini bit.ly/PendaftaranGreenjobsZoanebt
Pendaftaran Green jobs: Blue Carbon Project Manager di link berikut ini