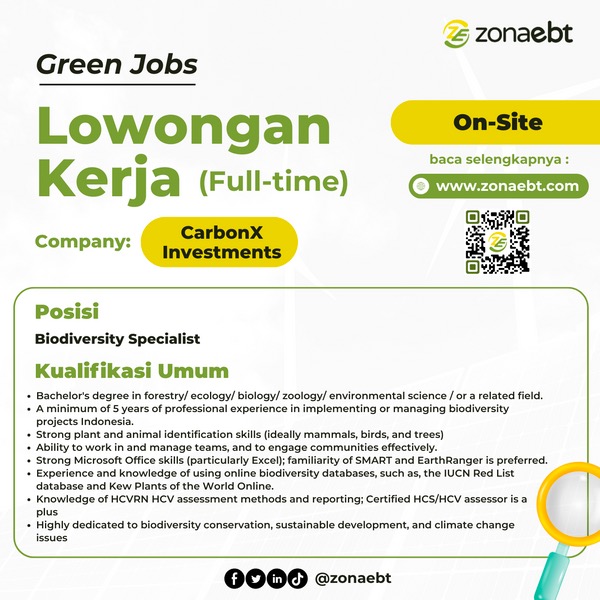 Kualifikasi Umum :
Bachelor's degree in forestry/ ecology/ biology/ zoology/ environmental science / or a related field.
A minimum of 5 years of professional experience in implementing or managing biodiversity projects Indonesia.
Strong plant and animal identification skills (ideally mammals, birds, and trees)
Ability to work in and manage teams, and to engage communities effectively.
Strong Microsoft Office skills (particularly Excel); familiarity of SMART and EarthRanger is preferred.
Experience and knowledge of using online biodiversity databases, such as, the IUCN Red List database and Kew Plants of the World Online.
Knowledge of HCVRN HCV assessment methods and reporting; Certified HCS/HCV assessor is a plus
Highly dedicated to biodiversity conservation, sustainable development, and climate change issues.
Familiarity with the Climate, Community and Biodiversity Standards (CCB Standards) and/or Gold Standard and Plan Vivo Standards is desirable.
Experience, ability, and willingness to work in remote and difficult field conditions.
Results-oriented and able to work with minimum supervision.
Deskripsi Pekerjaan :
Project Design
Collaborating with project team to integrate biodiversity impact consideration into design and planning of conservation and restoration projects.
Supporting the development of High Conservation Value (HCV) and High Carbon Stock (HCS) assessment capacity within CarbonX' concession.
Conduct Biodiversity Survey
Implementing a range of periodical biodiversity surveys according to established VCS and CCB biodiversity monitoring plans across multiple projects, including Camera trap surveys (for mammal monitoring); Point (count) transects (for bird monitoring); Nested vegetation plots (for plant, mainly tree, monitoring); Other animals nest surveys.
Analysing biodiversity survey data to ensure that data are cleaned and unbiased.
Rollout of any new biodiversity survey methods as required.
Manage Biodiversity Database
Maintaining and updating project species inventories using survey data and online biodiversity databases, such as, the IUCN Red List database and Kew Plants of the World Online.
Develop Standards and Compliance
Developing standard operation procedures for biodiversity assessment that adhere to international standards and regulatory requirements.
Ensuring that wildlife-related safety guidelines are implemented at field sites and continuously improved.
Monitoring, Evaluation, Reporting and Continues Improvements
Conducting weekly meetings with biodiversity field staff to ensure targets are being met and issues are being addressed.
Preparing weekly reports to the General Manager on activities and biodiversity outcomes.
Advising on ways to improve the efficacy and efficiency of biodiversity survey processes and results.
Supporting project management and finance team with biodiversity activity scheduling and budgeting.
Team and Capacity Building
Supporting hiring and training of biodiversity field staff for CarbonX' projects.
Conducting capacity building to field staff on biodiversity and how to conduct range of biodiversity surveys, fill up monitoring plans, etc.
Location: Jakarta, Indonesia (with frequent site visits).
Deskripsi Usaha :
CarbonX is a high-impact focused investment company, determined to be a driving force in the transition towards a sustainable future. CarbonX is developing nature-based solutions projects, delivering a high-impact carbon emission avoidance/removal from Indonesian forest area, and emphasizing co-benefits for environment, biodiversity and local communities. Our current portfolio consists of Avoided Planned Deforestation and Afforestation, Reforestation, and Revegetation (ARR) scenarios.
Mari gabung GROUP KOMUNITAS GREEN JOBS, dapatkan update lowongan kerja terbaru melalui link berikut ini http://bit.ly/PendaftaranGreenjobsZoanebt
Pendaftaran Green jobs : Biodiversity Specialist di link berikut ini :