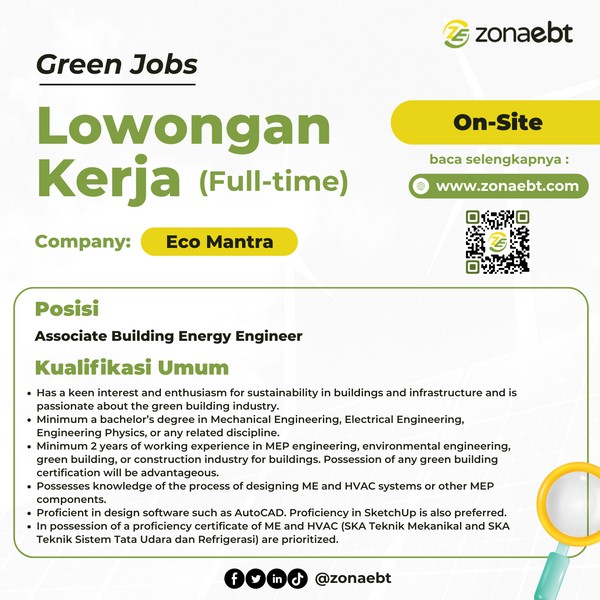 Kualifikasi Umum
Has a keen interest and enthusiasm for sustainability in buildings and infrastructure and is passionate about the green building industry.
Minimum a bachelor's degree in Mechanical Engineering, Electrical Engineering, Engineering Physics, or any related discipline.
Minimum 2 years of working experience in MEP engineering, environmental engineering, green building, or construction industry for buildings. Possession of any green building certification will be advantageous.
Possesses knowledge of the process of designing ME and HVAC systems or other MEP components. • Proficient in design software such as AutoCAD. Proficiency in SketchUp is also preferred.
In possession of a proficiency certificate of ME and HVAC (SKA Teknik Mekanikal and SKA Teknik Sistem Tata Udara dan Refrigerasi) are prioritized.
Able to use building energy simulation software such as EnergyPlus, Sefaira, ClimateStudio, IESVE, or Computational Fluid Dynamics software is preferable.
Knowledge of greenhouse gas accounting, CO2 footprint assessment, LCA, and/or ESG reporting will be advantageous.
Can communicate well in English (written and verbally).
Possess a strong analytical and systems thinking foundation and be able to think critically and solve practical problems.
Teamwork, leadership, and communication skills are a must to be successful in any role at Eco Mantra. • A resident of Bali is highly encouraged to apply.
Deskripsi Pekerjaan
Participate in Environmentally Sustainable Design (ESD) projects.
Supporting project team with engineering expertise.
Working with project team members in designing, calculating, and developing sustainable and efficient energy systems for the ESD project under the leadership of the project manager.
Create ME & HVAC scheme design for the project which meets the sustainability design principle • Check MEP drawings produced to ensure they meet sustainable design objectives.
Conduct Energy audits for projects and do the analysis and proposed improvement recommendations.
Coordination with partner suppliers and conduct market and cost research for ME & HVAC component items, including material specification, and unit price analysis.
Coordinate with contractors on-site during construction – delivering construction monitoring services and finding appropriate solutions for problems that arise.
Conduct research and development for various topics related to ESD and climate change.
Deskripsi Usaha
Eco Mantra is a leading Environmental Engineering and Sustainable Design Consultancy based in Bali which specializes in the design, development, and management of sustainable properties in Indonesia. We are looking for an Associate Building Energy Engineer (entry-mid level) position to join our growing team to increase our capacity for local and international sustainability projects.
Mari gabung GROUP KOMUNITAS GREEN JOBS, dapatkan update lowongan kerja terbaru melalui link berikut ini bit.ly/PendaftaranGreenjobsZoanebt
Pendaftaran Green jobs : Associate Building Energy Engineer di link berikut ini